Please forgive me… a little lesson learned in life
by Sofia - in Random
I´m sure we all have those moments we are not too proud of as parents. We do the cuddling and we do the comforting. We do the teaching and raising as best as we can. But then there are those days or quite simply those moments when we just do not manage. And believe me I know there are good reason for snapping at your kids. Sometimes even the most angelic ones turn in to little "Damiens" really. They get cheeky and do not listen to a word you are saying. You snap. Fine. I´m pretty sure that happened to you too. But I´m not talking about those moments. I´m talking about the moments when you really should be the adult in the house. When you know you are wrong and they are just little people who need our love and understanding. And yet you snap. Let me give you an example and my little life lesson learned…
I was alone on the island with the girls. It was one of those amazingly gorgeous nights when you just hold your breath and count your blessings. Mr Espresso had to pop in to the city to do something at work. So the girls and I decided we would eat dinner al fresco. I know people think that many bloggers or "Instagram affeccionados" just make things look pretty to look good in their photos. Well I for once grew up in a house where there were linen napkins on the table at weeknights and water was served from a pretty jug. My mom would never put out cold cuts or cheese in their wrappings. So I do like things to look pretty, but I liked them so even before Instagram times. So we set the table nicely with my lovely clay bowls I really really love to use at the country house. The girls love these too as they are mostly pink!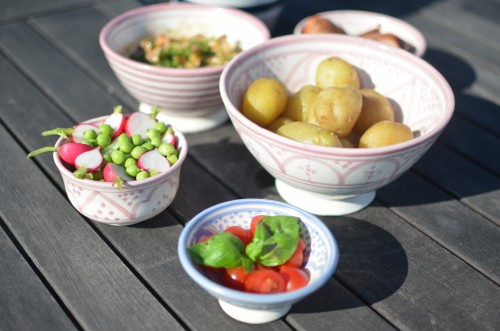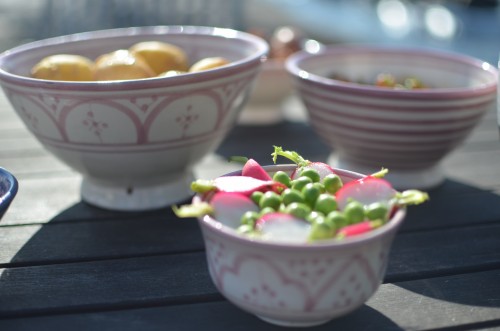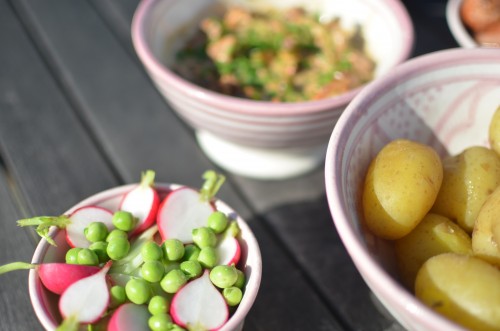 We had a nice dinner. At some point Cotton Candy noticed there was an ant pushing a pea she had accidentally dropped. So we took a video of the ant´s resilience and strength while it hauled the pea triple it´s own size towards it´s home. We ended our dinner and the girls helped me carry the dishes inside. I gave the pretty bowls to Cotton Candy to carry whilst I took our plates, glasses and water jug and made her promise to be very very careful not to drop them. She made it about 4 meters. I heard the sound of clay shattering over the rocks. She had dropped the whole pile. I could see from her face she was sorry, I could see it. But what I could not help were the awful words coming from my mouth. " I told you to be careful! Look, you broke them all! " Like she did not see it for herself, like she did not try. She kept saying "I´m sorry mommy, I tried so hard I looked at the bowls and not my feet." But I was so mad for some inexplicable reason. I told her she could not get any ice-cream and strawberries for dessert and she stormed off crying. I looked at the shattered pieces on the rocks and tears were streaming down my face. Not because of the bowls… who really cares about the bowls, but because of the way I had behaved. I knew absolutely 100 % I was wrong and what I needed to do was to apologise and to turn this situation in to a little life lesson for my precious five year old who tries so hard to do her best all the time.
So I went to her room where she was sulking in her bed hugging her huge stuffed pig ( the one called Nakki or Wiener in English). I said I was sorry and asked for her forgiveness. I told her that sometimes in life we do or say things we do not mean or should not say, just because we feel mad or sad. I told her that then it was important to go make things right. To say we are sorry for what we did. She did forgive me after making sure she was getting ice-cream after all. And she did, with extra strawberries and meringue on top.
We do not yell and fight a lot in our house ( at least I would like to think we don´t) but we do make an effort to always make up in front of the kids if we happen to quarrel. So that they would learn that it´s ok to sometimes have your differences but they need to be solved in a civilised matter. The fact is there is not a person in this world who doesn´t sometimes do something wrong, even just a little. So it´s good to know how to make up if you do. It´s good to know how to make amends.
Just to simply say
" I was wrong. Please forgive me!"
Lattemamma
p.s. Do you remember that scene from the movie Sex and the City 2 where Charlotte goes to cry in her pantry after baking those pink cupcakes and her younger daughter keeps on crying and the older smashes candy colouring filled hands on her vintage skirt ( yes, the cream Valentino). I think all us parents sometimes feel like giving ourselves a timeout. I wish I had her pantry though.