Minulta toivotaan usein juttuja liittyen omaan tyyliini ja olen vähän kasaillut nyt tämän aihepiirin kirjoituksia teille. Kirjoittelin teille aiheesta oma tyylini jo kauan sitten, mutta itse asukuvia en oikein ole osannut sen kummemmin ottaa ( onhan niitä toki nähty täällä muutamaan otteeseen, mutta hyvin harvakseltaan). Aloitetaan ihan ensimmäiseksi nyt vaatekappaleesta joka on löytynyt kaapistani jo kymmenen vuoden ajan. Olen tietenkin ostanut uuden version samaisesta vaatteesta useamman kerran. Kyseessä on täydellinen valkoinen kauluspaita. Omani olen läytänyt Brooks Brothersilta. Mielestäni tärkeintä on löytää paita joka istuu hyvin omalle vartalotyypille ja sen jälkeen vain pitää huoli, että se on aina puhtaan valkoinen ja rypytön.
If I think of one item I use the most in my wardrobe and what defines my style it is a white button down shirt. I don´t know what that tells you about me ( probably it makes you think I´m boring) but I know what I would like it to tell about me to the people I encounter. For me it is the epitome of a classic timeless piece of clothing. I would like to think it makes me look fresh and put together. Effortless yet chic. Not too girly or too preppy but still feminine and smart.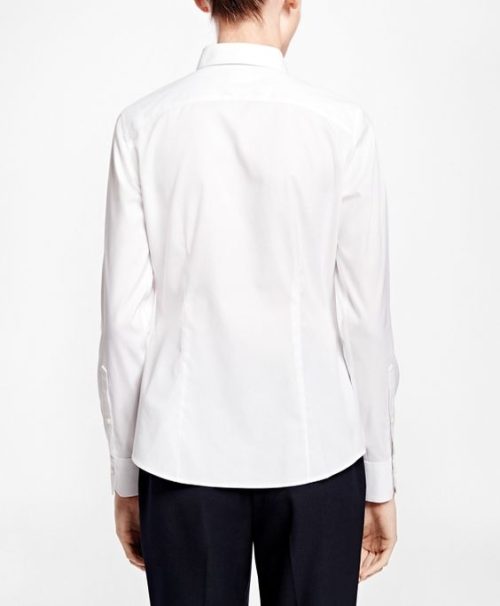 The white shirt does need to be clean and ironed though! At least I like mine very crispy and with the collars just a bit lifted. A white shirt looks good with basically everything in my wardrobe from jeans to skirts, from jodhpurs to a long ballgown skirt. Really! I can wear it with a navy blazer with golden buttons or a leather biker jacket. I can dress it up and dress it down and it always looks like the right thing to wear. And if you like jewellery it really is a great canvas and brings out the best in anything you wear from pearls or diamonds to enamel bracelets or statement earrings. And watches too!
For me my very favourite outfit that is most "me" would be this white shirt with my basic diamond studs, a diamond tennis bracelet ( my second push present) and my Hermés watch in the other arm. Red lipstick with a slight coral tone from Chanel and Jo Malone´s Grapefruit scent. My hair either worn straight or on a pony tail. Red or nude pink nails ( fairly short). When it comes to the bottom part it could be either high waisted pants or a skirt or even blue jeans as it does not really matter. But let´s say perfectly blue slim jeans that leave a bit of the angle showing in length and Todd´s loafers ( on bare feet!). Or a flared navy knee length skirt and ballerina shoes.
The key is finding just the right shirt for you, as a white shirt ( or any shirt) that does not fit just right is something you should never wear… ever. I have found mine at Brooks Brothers and have been wearing the same model for 10 years now. After having the girls I had to go up a size as my bust grew a bit bigger ( let´s pretend it´s just the bust!) but the fit is still the right for me. And it might be for you too and that is why I´m sharing. The shirt I have has cufflinks so it is a tad dressier ( which makes it great for party skirts too) but I tell you it really does look great even with a casual outfit! The ones I found online have buttons on the cuffs so even more casual. And by the way, even if it says non-iron shirt you still need to iron it. It just means the fabric is treated so that it makes it basically wrinkle free all day whilst you wear it and so much easier to iron than most shirts. Huge bonus for fans of crispy shirts like me. This shirt is also fitted so it brings out the waistline nicely ( at least for me it´s the narrow part of my body) and it has a tad longer torso with rounded sides on the hem so you can wear it on top of pants too. What is there not to love?!
If you know of a fantastic white shirt you would like to share then please do so in the comments!
Lattemamma
p.s. The only thing I don´t usually wear it with is a black pencil or tulip skirt as it gives it a uniform kind of a look and you may end up being asked to bring a cocktail at a party. But then again a black skirt looks so lovely with an ivory or champagne silk shirt I would pair it with that anyway.
Both photos from Brooks Brothers