Oliko sinulla hyvä viikonloppu? Meidän viikonloppuumme mahtui niin paljon ihania hetkiä, että sain siitä hyväntuulisuutta koko viikoksi ( toivottavasti!). Jos kuitenkin maanantai tuntuu vähän tökkivän, niin keräsin alle hieman inspiroivia lausahduksia antamaan lisäpotkua päivään.
After the loveliest weekend it´s sometimes a little hard to fall head first on a Monday so I wanted to give you some extra inspiration ( click  once or twice to get the picture larger)…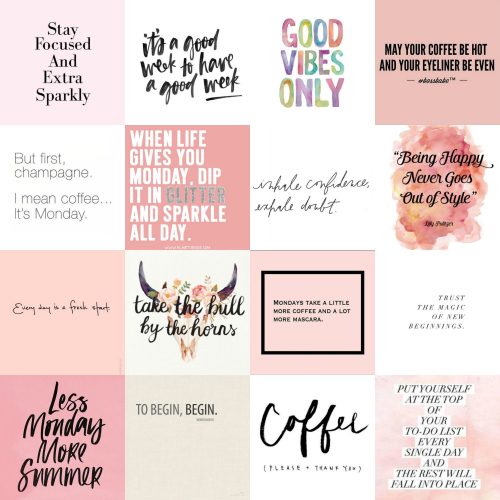 I personally do not dislike Mondays. I think they are like a pair of fresh clean sheets. A new week, a new beginning, a fresh new outlook after a good weekend or a chance to get back in to normal life after a weekend you want to forget. And if your Monday turns out to be a bad one then after the work day is over I suggest you watch some Grace & Frankie on Netflix, season 2 is up and I love it. Grace is just fantastic ( maybe a bit too boozy to my liking but fantastic) with the best outfits and Frankie is hilarious. It is guaranteed it will cheer you up after a not so fabulous day!
Hyvää alkavaa viikkoa ja toivottavasti kahvisi on kuumaa, vahvaa ja se ei lopu heti kesken!
Lattemamma