Bye bye May
by Sofia - in Random
What a beautiful May we had in Finland. The weather was sunny and warm and it felt like summer. Although we only made it to the island once it was wonderful to open up the place. The month ended in the most incredible trip to the French Riviera and in between were many happy moments of regular everyday life, trips to the playground, baking together, bedtime stories and plain old life. Nothing better. So before the blog heads towards June, here is a recap of May from my phone.
After the first of May celebrations we headed out to the island and from there I left to Japan for a work trip. My hint for a "red eye" traveler ( see my "pretty" airplane toilet selfies as before and after), as it´s a night flight, whilst you sleep change to a comfy outfit. I roll my brushed long hair in a tight twist and turn it in to a bun. When closing in on the destination I open it up and my hair looks like it´s been on rollers. Then I just add red lipstick to fake a brighter look on my face. The Japanese wrap everything so prettily ( even snacks). I found some cute food containers for the girls and saw these Liberty print fans. May was also about writing blog posts in bed, heading out on scooter runs with the girls, teaching the girls the importance of writing thank you letters , running in the gorgeous summer weather and stopping for photos of cherry tree blossoms, playgrounds after work as there was still so much light we had the energy, pretty flowers and fresh almond croissants in bed whilst hubby was on a business trip.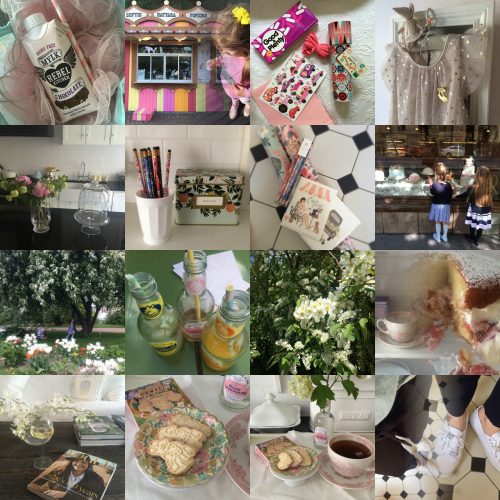 May was also last ballet classes, a trip to the amusement park, birthday presents for little girlfriends ( old fashioned candy, Chinese jump rope or twist as we call it in Finland & a kaleidoscope), cute dresses, floral pencils, browsing at the bakery window after having breakfast next door ( we were supposed to go to the island but we all went through a stomach flu in May so as that was cancelled we had a consolation breakfast at one of our favourite spots), a picnic in our special park, baking a Victoria sponge cake for tea, enjoying a glass of perfectly chilled Riesling with the 100 year edition of Vogue when I was absolutely beat after washing up too many vomits and all the duvets, pillows and even cashmere blankets in the house ( kids throw up on EVERYTHING), night tea with the cutest bunny cookies and new white Superga sneakers.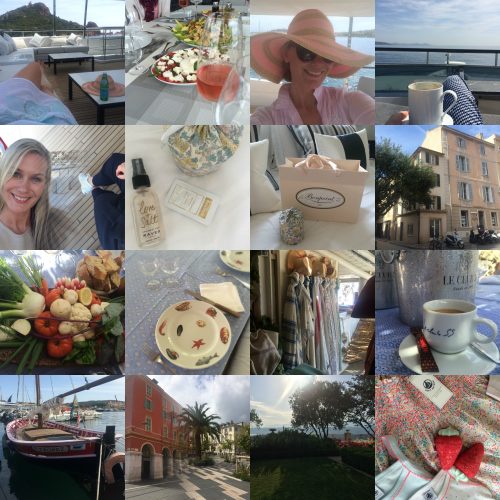 After all the hustle of May it was amazing to know we had a fantastic trip booked at the end. Our friends had invited us on their new boat and we had the best time. Not a bad spot for reading books in the shade and amazing food. My morning coffee also tasted extra good on the sunny mediterranean cruising on calm seas. Favourite sea salt spray for added beach hair when washing your hair can wait until the evening. Some shopping in St Tropez and lunch at my favourite beach club Le Club 55 ( they have wonderful crudités as you can see, their grilled gambas with rosé is a must and the place settings are the same year after year). Their little beach shop is filled with treasures. Nice was also wonderful and we had dinner there with some more friends ( the truffle linguini at La Petit Maison was so good). We found these cutest huge strawberry marshmallows ( and always some Petit Bateau) for the girls. 
What a month it was. Lots of work and everyone being sick but also interesting travels and such sunny memories to hold dear for a very long time to come.
I hope yours was good too and you are now ready for June!
Lattemamma