This is a blog post I have been asked for over and over again. I don´t know why it has taken me so long to write. But here it is! What´s in my make up bag?  Let me start of by telling you I´m absolutely not a make up guru. I do not follow up on trends here so much and neither am I a pro at adding it on my face. Do I love make up? Yes! Do I wear it every day? No. But when I do I often go for a natural enhancing look rather than changing my face completely. I basically have three looks mastered. One is with a lighter eye maybe with a little golden sheen to it and black mascara, then red lips. The other is with a brown/ greige eye shadow and a lighter lip with perhaps a coral or a blush colour. Last one is a smoky eye for a night out ( although I don´t have so many nights out and even when I do I don´t go for a smoky eye so often even then). But I used to do both so I know how to make it.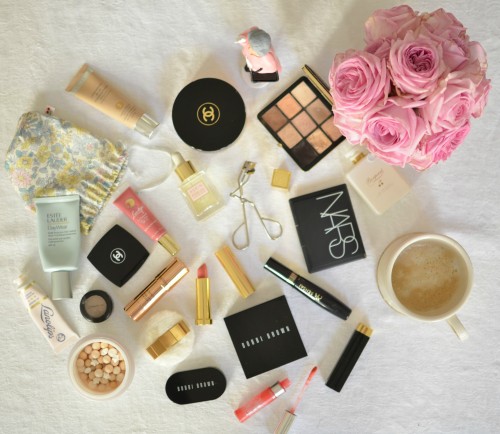 I have learned most of my make up products and tricks from make-up artist as I used to be a professional model ( seems like many moons ago). They obviously know what looks best on everyone and can give you little hints and tricks on how to enhance your face. Lift up your assets and cover your flaws ( like I have any, ha!).
My go to blush is from Nars and it´s called orgasm, I use a duo with a darker shade called Laguna for contouring a little ( I´m not really a contouring pro with different colours for different parts of my face).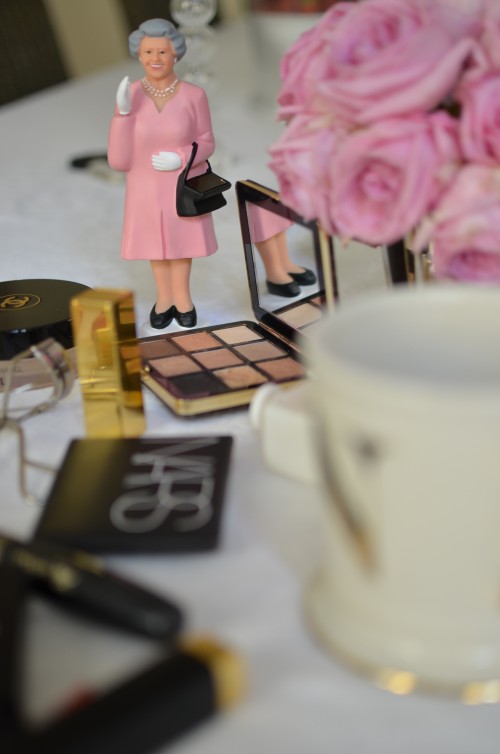 I love Bobbi Brown´s make up. I use their eye shadow palette Warm Glow Eye Palette at the moment but also Urban Decays´s Naked  palettes have really good basic brown/ beige/ grey shades that I have used.
The shimmer brick compact from the same brand is one of my favourite beauty products ( it gives a great sun kissed glow on your face) and I use their creamy concealer when I put an extra effort in to my face. One make up artist raved about the eco tool concealer brush and it´s fantastic!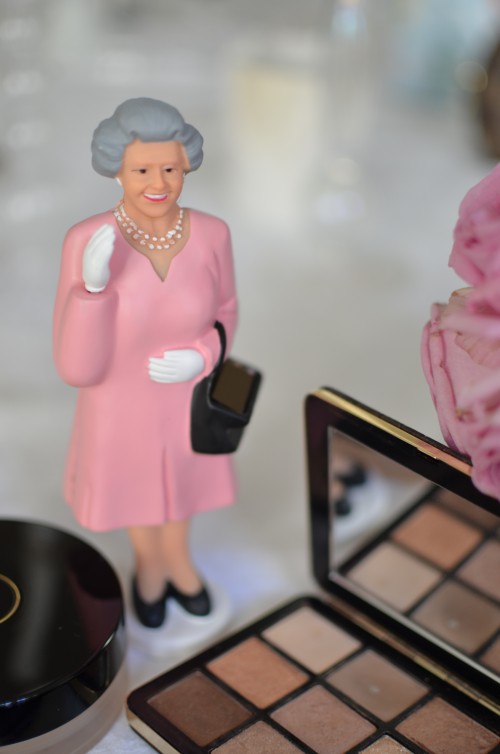 Can we all just take a moment to say hello to her majesty?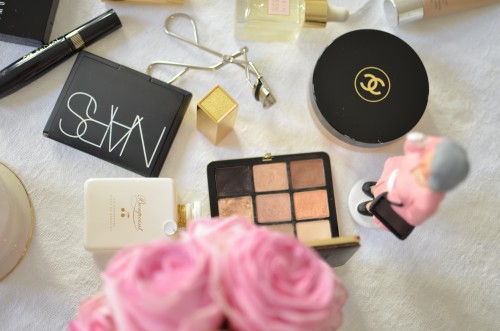 I used to wear Bobbi Brown foundation for years and years ( over 10 years that is) but I have found a better one! I use a Finnish brand called Lumene now. They have two absolutely fantastic foundations Longwear Blur Foundation for a night out or a long lasting more covering finish and Nude Perfection for a fresh daytime make up. Both are absolutely fantastic and do not dry out skin ( mine is quite dry so I need my foundation to be a bit more moisturising).
Lumene also has this fantastic product called lip oil that I´m pretty sure they put some crack in to ( yes, this is a joke!) as I´m really addicted to this. It gives any lipstic a fabulous gloss but also works on it´s own and it moisturises your lip while at it. I use the shade 200 called dew. It´s almost a non colour but just a hint of light pink coral to enhance even a bare lip. This is a must try product! But you have been warned…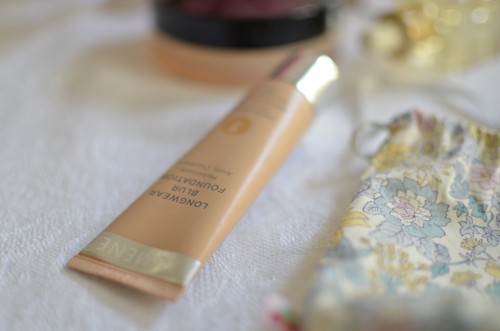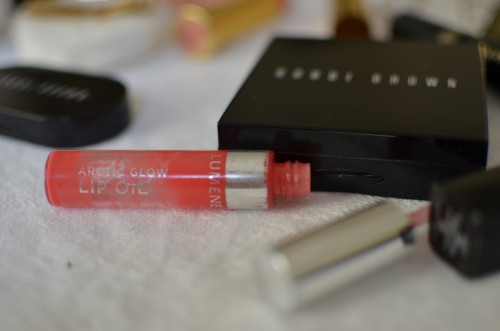 I´m running out on my "crack du jour", the lip oil.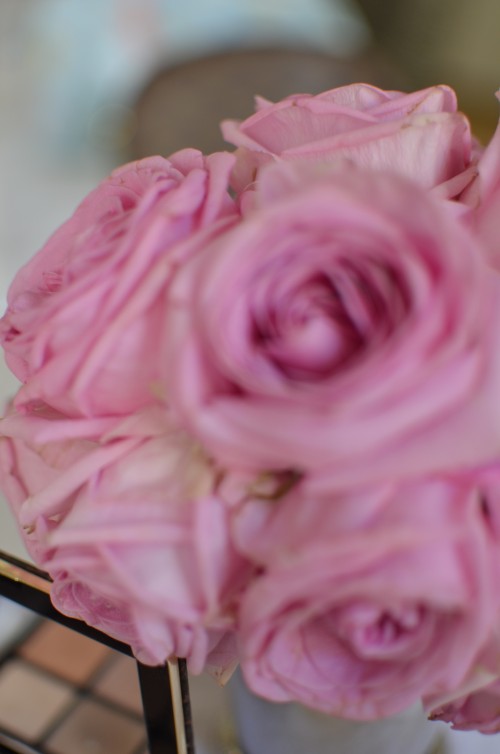 Another fantastic and inexpensive lip product is the Burts Bees lip gloss. It comes in a small tube you can add like lip balm without anybody noticing and has light shades to enhance a bare lip. It may not be the most luxurious product in your make up bag but it sure is good. Lanolips also makes good inexpensive lip balms & lip glosses.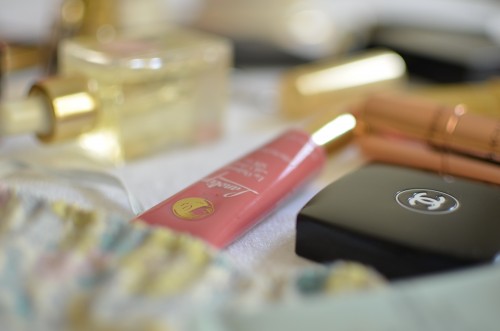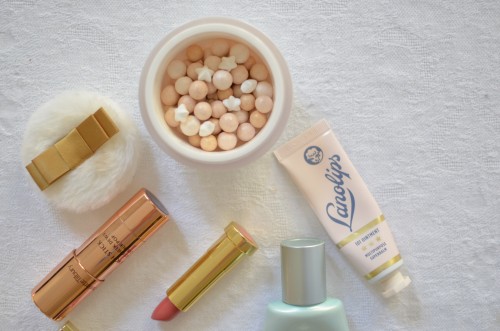 I hardly ever go for a bare lip. I think most of us look much better with a bit of colour and with all my honesty not so many can pull off the paler than nude lip look ( think very pale pink lipstick from the 90´s). I would add even just a hint of colour to make myself look healthy yet natural.  A red lip on the other hand is maybe not for everyone. But I love it! I have found my go to red that is not a very Ferrari bright red but has a teensy orange/coral undertone. It´s Chanel´s Rouge Allure Incandescente ( 97). But as we all have different colourings this is just one I found looks good on me. It´s the kind of red I can wear even without any make up to give my face a little wake up call ( add sunglasses and you are good to go for a school run). My favourite blush colour is from Albeit called Peony ( that topped off with the Lip Oil is a very good combo). Unfortunately Albeit is Anthropologie´s own make up brand and I think it´s only sold in the US. I also use Aerin´s lipstick in Coral during the summer but with that I need a bit of bronzer or a tan on my face. It´s not a pale faced girls colour as it is really coral´ly.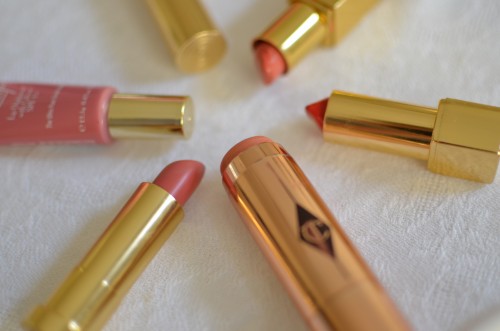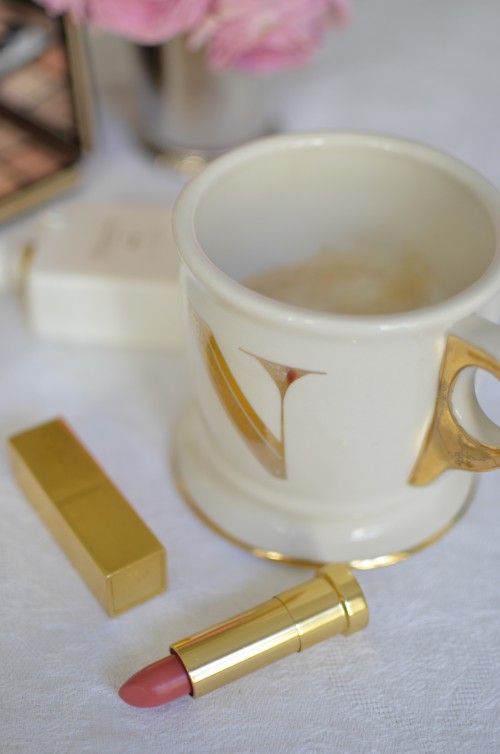 Albeit´s Peony is a great neutral lipstick.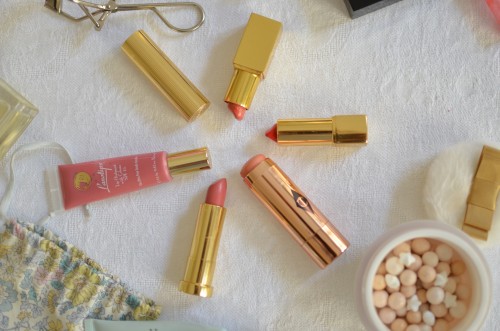 I have used Estée Lauder´s DayWear for years ( since 2003) and I buy it again and again. I use it on days I don´t put any make up on but want to look just a little put together to even out my skin and to give it a fresh look ( think a breakfast at friends´ cottage before getting ready for the day or when your friends come visit you in a hospital after just having had a baby the day before). My go to no make up look is the DayWear, Elisabeth Arden 8hour cream on your lips and eyelashes curled ( takes 2 minutes maximum and it gives you the "just rolled out of bed looking like this" look). I also wear the DayWear under my make up as it evens the skin out and gives it moisture. This is my one can´t live without product!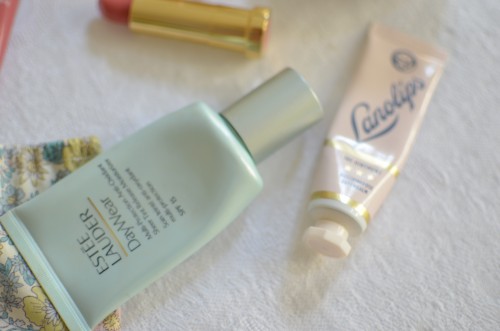 For that previously mentioned very fast look or to give your cheeks a nice glow on any occasion I have learned to love my new product I bought this summer. It´s the Charlotte Tilbury beach stick. You can use it on the cheeks and on lips. A great holiday product, as well as one to keep in your purse for a quick touch up. Mine is in Moonbeach but I only like that colour on the cheeks. Next I think I will order it in another colour.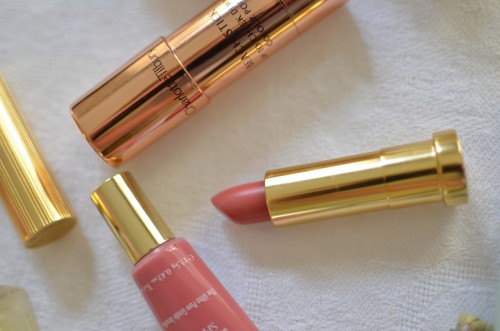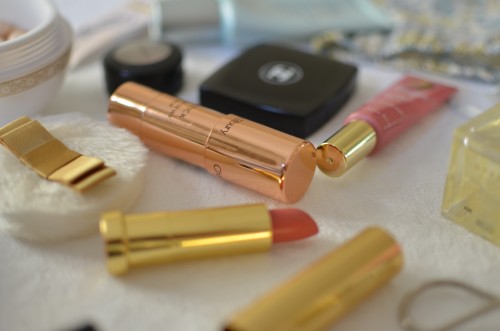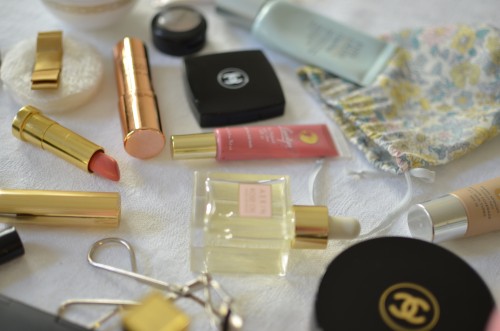 My favourite mascara is the Volumising  Sensai 38°c. It´s stays on even after all the smiling I do with squinting my eyes all day. It´s a smily girls saviour as I can not seem to keep any other mascara on my lashes but rather under my eyes or on my cheekbones. It´s not a very volumising or lengthening product but I have a fairly good set of lashes on me so it´s enough for my eyes. I also use the eyeliner from the same brand ( someone told me it´s super easy to apply so that´s the reason I started using it and it´s true!). I also have their black eyeliner pencil for my smoky eye. It is a soft pencil that you can easily use inside the lid too and it comes with a blender on the other end to smudge it a little for that true rock star´ish look ( my "rock star" is a bit more Gwyneth Paltrow than any real rocker).
For my brows I use Mac´s eyeshadow in Omega. This is again one of the products a make up artist referred to me. I just add it with an angled eyebrow liner brush. She even gave me instruction on how to use the brush to give my brows a natural but enhanced shape. I´m not a "brows girl". I don´t like them over plucked or over bushy but just to blend in and give my face a little structure.
If you are looking for a tanned, sun kissed look but you are not a huge fan of a powdered bronzer I would highly recommend Chanel´s "soleil tan de Chanel" that is a bronzing make up base. I love how it blends in to the make up and gives you a tanned and healthy colour on your face. Whenever I use it someone asks if I have been on holiday. I also use a Chanel smoky eye- eyeshadow duo and they have great blushes too. I think Chanel´s make up products are great and they have the best packaging. Such timeless classics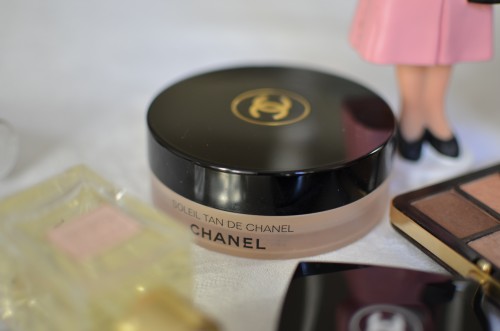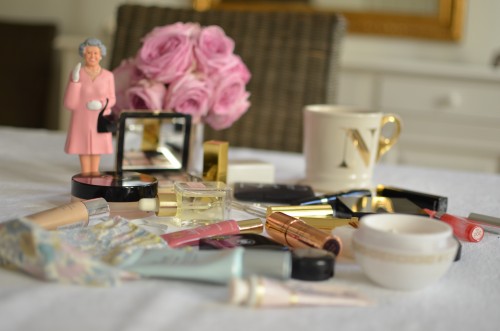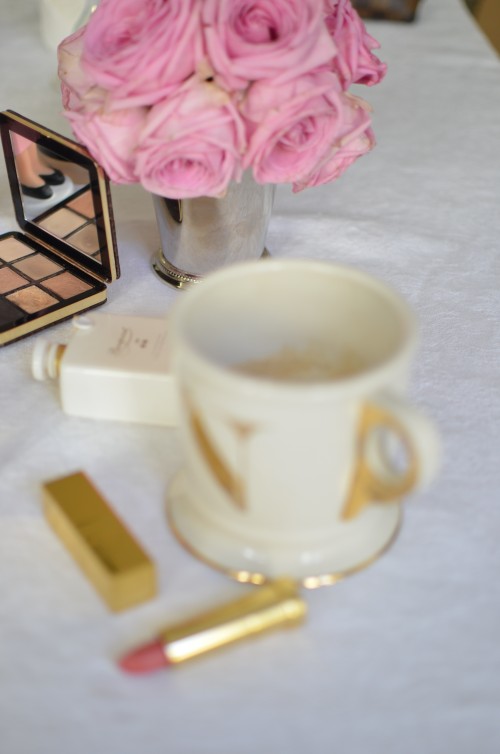 My eyelash curler is from Shuemura. I have tried others, this is the best. I don´t know why as it looks the same as the others but it just is better.
You may have noticed I don´t have a powder on my list. I don´t as I hardly use any. I do own a loose powder by Dior but only use it in a very rare occasion I need my make up to really last a longer time or I don´t want any shine. I love Guerlains météorites light revealing pearls ( the ones in the photo are a limited edition they made for last Christmas that Santa brought me) but it hardly counts as a proper powder as it´s shimmery. They have this divine scent that reminds me of my childhood. My mom used their face creams and the lipsticks that had that same scent. The lipstick was called KissKiss. Powder and hairspray are my two least used products I guess I should learn to use one day. But I like my hair with a natural flow to it and my face with a glow rather than matte. Without the occasional red lip and red nails I´m a natural look kind of a girl!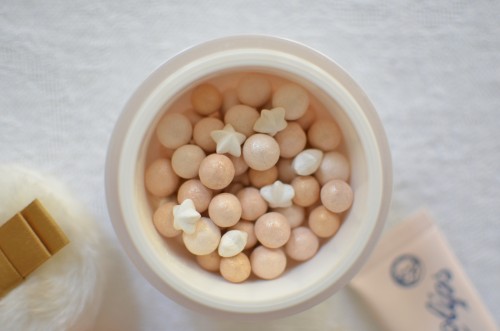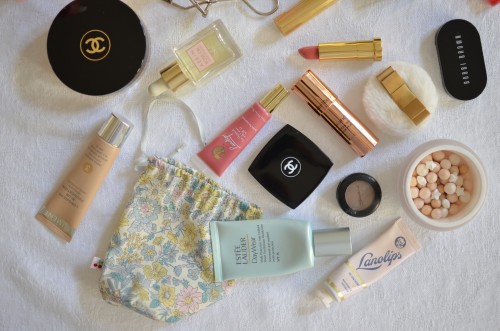 These are the products I´m using at the moment and most of them I have been using for years. Some come and go some stay for longer periods.
But now it´s your turn! What are your can´t live without products and why?!
Lattemamma
p.s. I buy my make up on my work trips ( at Sephora for instance), at the airports, online ( Net-a-porter has a lot of great brands… although maybe not the best prices) and in department stores. So basically here and there. Do you have a great source for your beauty buys you would like to share?