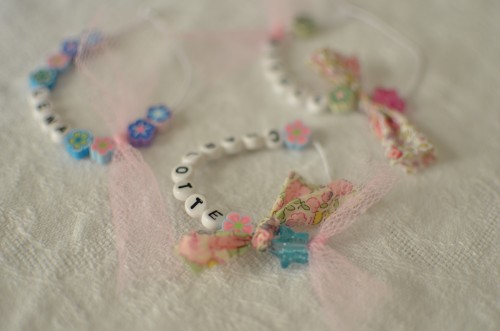 Cotton Candy had a playdate with a sweet school friend at our house and I wanted to let them do something special for when they were finished with homework. When my girls were babies ( and probably even before I had kids) I always used to imagine all the fun things to arrange for playdates and sleepovers. I know it´s mostly about just letting the girls do their thing with their little friends but a little cute snack or craft is always a welcome addition.
This time the girls got to assemble little friendship bracelets inspired by ones I saw in a very cool children´s store in Tribeca, New York. It´s a fun project, something the girls can wear and it´s also a learning experience as they can assemble their own names from the alphabet beads. If there was more time it would be a fun project to make for all the girls ( and why not boys too) in the class. Wouldn´t it be a great bonding experience if they all had one. One of Cotton Candy´s class mates is moving to Australia so I think she will make one for her as a remember me by bracelet.
You will need…
thin rubber band on ribbon ( make sure it´s thin enough to get through the holes on the beads)
scissors
alphabet beads
regular beads, flowers, stars or whichever you like
tulle for some "bows"
If you like some pretty floral fabric for some "bows"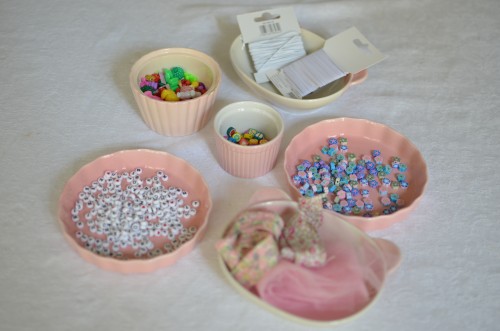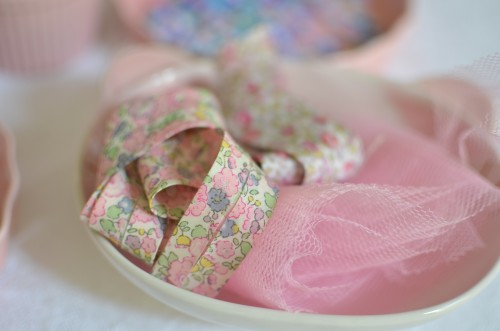 These bigger beads are for Bubble Gum as her teeny hands and skills would not manage the little holes in the other beads.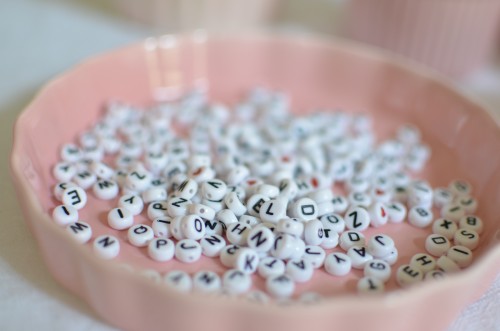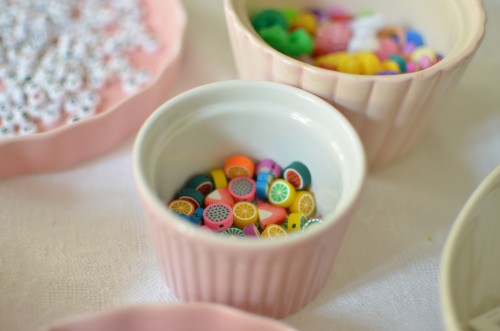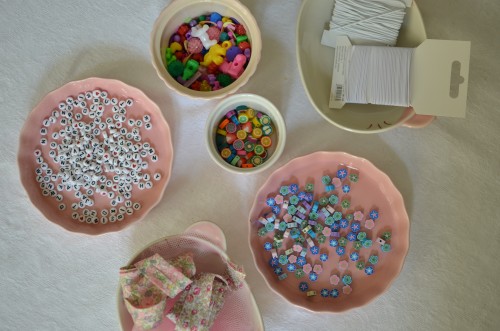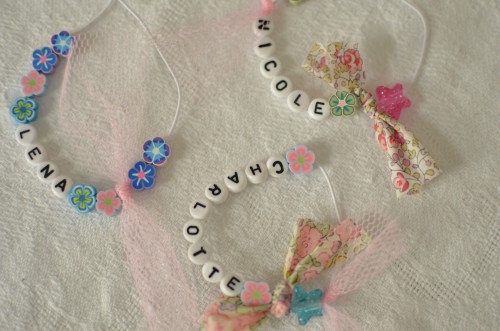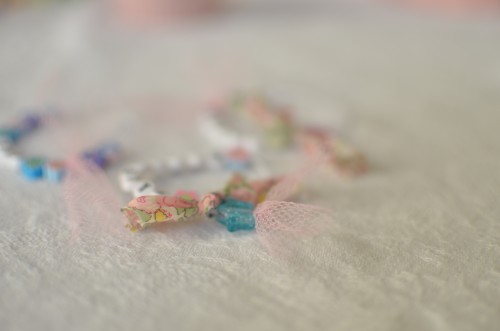 Happy crafting!
Hattara askarteli eilen leikkitreffeillä kaverinsa kanssa rannekoruja. Hankin Purkalle vähän isompia helmiä, koska näiden pienten pujottelu vaatii jo enemmän sorminäppäryyttä. Minusta näistä tuli aika kivan näköisiä. Tytöt suunnittelivat illan lapsenvahdillekin korun ( jonka sain kasata).
Lattemamma