Bubble Gum got to also invite a friend of hers on a playdate last week ( before I hit the bed in the awful flu). The kids always need a snack to keep them happy and going after a day at nursery and with all the playing, scooting, dancing and twirling they end up doing. I wanted to include the girls in the making of so it would double as a "craft". As the girls are 4 year olds, it did not make sense to do an overly difficult thing so I decided on brownies ( with the addition of fresh berries and other healthier options as snacks too). They got to decorate the brownies with some sugar fondant cutouts afterwards to make them extra fun. For the brownies I used the super simple and ridiculously good brownie cake recipe I have shared earlier on the blog in Finnish. Now you get it in english too. For the fun of it we added some white chocolate chips this time and left out the nuts ( so our playdate guest could bring some of her self made treats home where there are nut allergies). You can leave both out just as well. This recipe is very similar to many brownie recipes. They include more sugar than flour and are really not the healthiest snack ever. But a square of warm home made brownie with a glass of cold milk may sometimes just make the day that much better. And the good news is, if you are either one of those people who can´t stick to just one square or don´t like using refined sugar, dairy and white flour ( smart choise!) then there are plenty of recipes for healthy brownies online too. Like these sweet potato brownies. Just keep in mind that even though the healthy choices are definitely better for you they may sometimes be just as calorific as the real deal ( with plenty of nuts and dates etc.). So it´s best to stick to the everything in moderation mentality even with these ones. Serve with a class of home made almond mylk, add a pretty straw and no one will know they are not the "real thing"!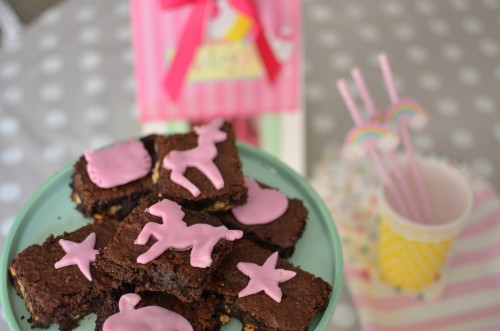 Brownies ( this is the cake sized recipe, for the brownies double it)
3 dl sugar
1 1/2 dl flour
2 tsp vanilla sugar or 1 tsp vanilla extract
1/2 tsp salt
4 tbls cocoa powder
150 g butter
2 eggs
optional 0,5-1 dl (white) chocolate chips ( or a 100g of crushed walnuts)
for decorating
Sugar Fondant ( in different colours if you like)
a little sprinkling of confectioners sugar or corn starch
1. Pre heat your oven to 200°c.
2. Mix the dry ingredients in a bowl.
3. Melt the butter ( in a saucepan or in the microwave oven). Mix it in the dry ingredients together with the eggs. If you are using vanilla extract instead of vanilla sugar add it at this point.
4. Fold in the chocolate chips and pour the batter to a buttered brownie pan.
5. Bake in the oven for about 20 minutes.
6. In the meanwhile roll your sugar fondant fairly thin using powdered sugar ( or corn starch) to help keep it from sticking. Keep it thick enough for little hands to be able to handle it though ( about 2-5 mm sounds about right).
7. Cut the sugar fondant with cookie cutters to any shapes you like. Just remember to use the smaller cookie cutters so the shapes fit on to the brownie squares.
8. When the brownies are ready let them cool off and cut in to squares. Add the shapes you made on top and you have cute decorated brownies. You can obviously just leave the sugar fondant part out and eat the brownies just as or use powdered sugar ( and maybe a free printable Boo baking stencil to make them cute).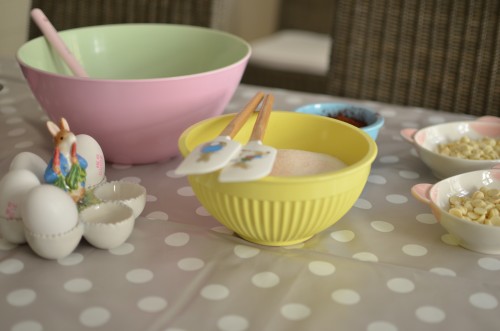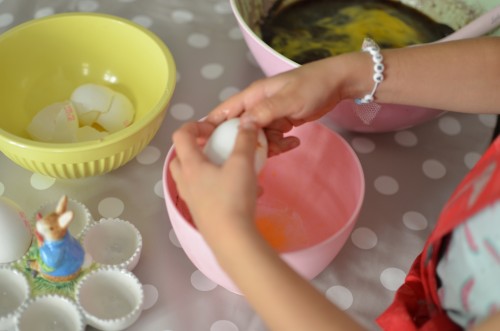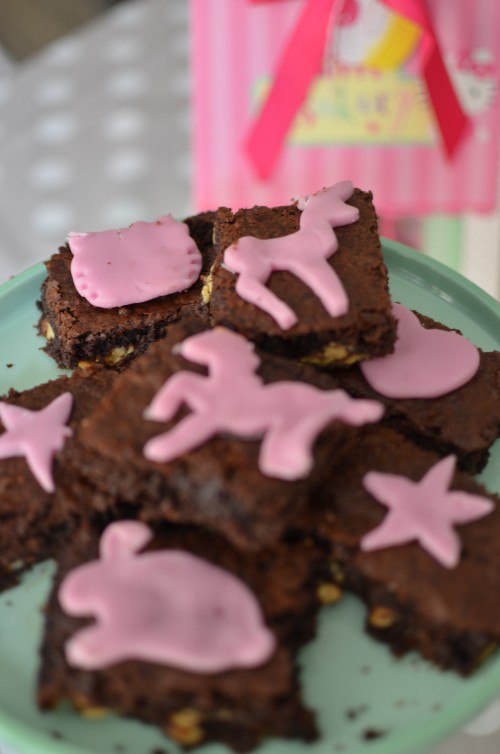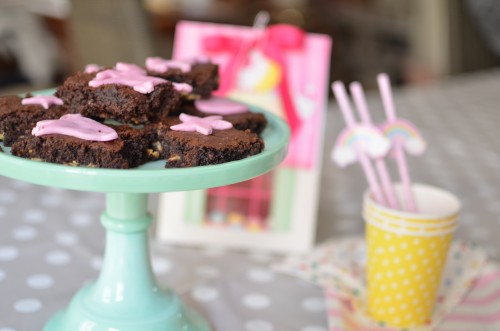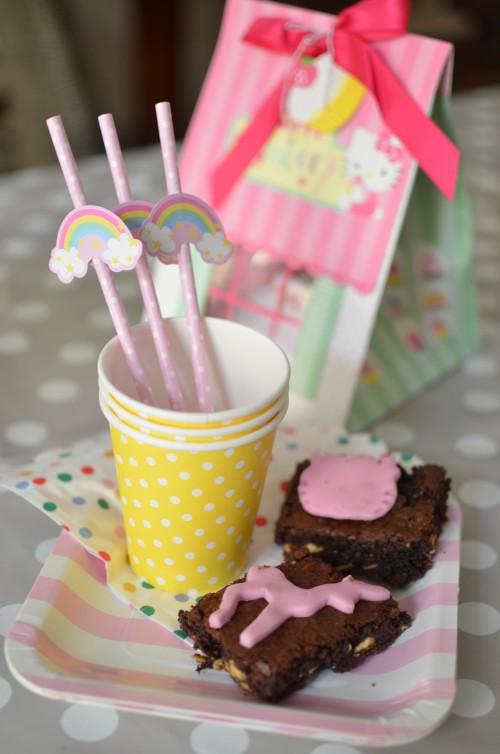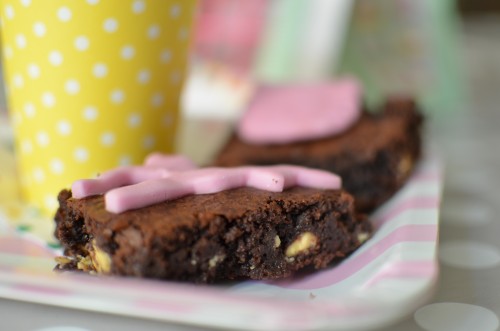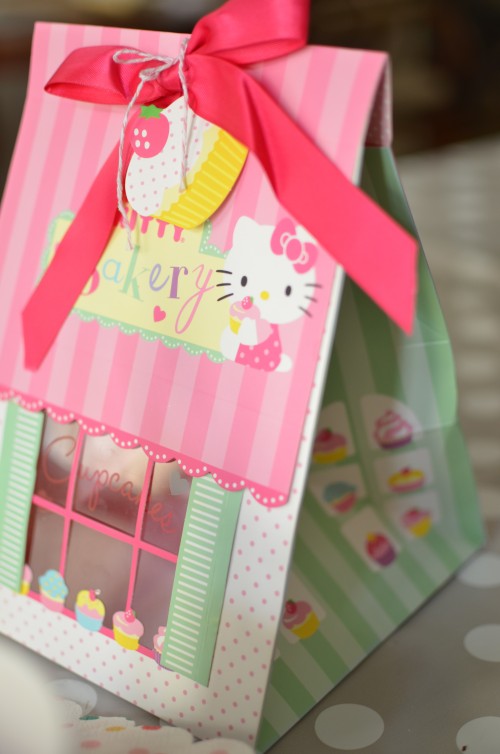 This whole batter is so easy to do the kids will be happy to participate. I had Cotton Candy home too and after she was done with her home work I made her the designated helper of the little girls ( cracking the eggs, pouring the hot butter…). So she had a big sister role on this. Everyone loved making these!
Hope your kids enjoy baking these with you! And remember to let them participate in the clean up too so they learn it´s a natural part of the process ( they can sort the eggshells to the bio trash and rinse the bowls for example).
Have a great week!
Mukavaa alkavaa viikkoa!
Lattemamma
p.s. I tend too feel like I loose my patience sometimes when I bake especially with the smaller kids. They almost always make a mess ( oops I folded the cocoa powder out of the bowl and on to the table, oops I dropped a blueberry and stumped it with my foot on to the sisal carpet by accident, oops I poured a glass of egg on my apron…) and they are very impatient to wait for their turn or sometimes too tired to listen to careful instructions. But I try to have this mantra in my head telling myself that the mess can be cleaned and that it´s just fun for them. If I raise my voice and start nagging the fun goes out of baking ( even for myself). But with children you may want to make yourself a cup of coffee first and take a few deep breaths befor you start the process. If it´s just one child, no problem but even just multiplying by three the game changes a little. But I love these kids ( not just my own) and baking with them so I try to keep it simple and the mess and the memories will be that much sweeter.