Excited for right now…
by Sofia - in Random
… I wanted to start a new recurring theme ( post) on the blog and share some things with you that excite or interest me at that moment. Like the weekend links-posts I used to share. These caught my attention lately…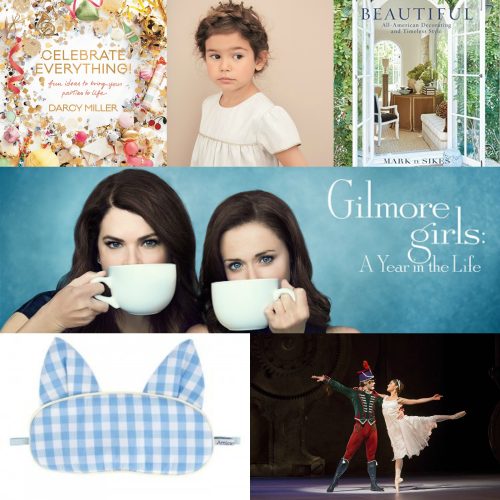 I´m just off to the post office to pick these up for the girls. Are they not adorable? We are going on our winter holiday in two weeks ( before the winter even starts really…) and these will be perfect for that night flight with the girls little travel pillows ( and I always bring them my old large pashmina shawls as they are lightweight, soft and warm). I chose the blue gingham bunny for Bubble Gum and the blue & white striped bear for Cotton Candy.
This book is out in USA now and out in Europe the 1st of December. It´s not a secret that I´m a fan of Darcy Miller since the longest time and have been waiting excitedly for this book now. The wait is almost over!
I´m also looking forward to this book that came out last month. I was waiting to order it together with the previous one as I thought it was coming out at the same time in Europe as it does in the US but now I might have to make two separate orders…
The Gilmore Girls: a year in the life new ( last 4) episodes on Netflix coming out on the 25th of November ( see the trailer here)! I´m also a fan of the Gilmore Girls as you may know. I´ve seen the whole series so many times it´s maybe a little embarrassing but I love their witty lines and parenting style. It´s a great show as it is at the same time silly and ridiculous but also charming and very smart. Besides they are coffee drinkers!
The Marks & Spencer x Marie Chantal collection is definitely something I´m looking forward to!
We just got our tickets to the Nutcracker ballet for December for Bubble Gum´s birthday. It´s the loveliest yearly tradition! Needless to say I´m already excited for Christmas…
Have a great weekend! And if you are celebrating Halloween this weekend I hope you have a brilliant time. My Halloween Pinterest board is here if you are looking for some new ideas.
Lattemamma
p.s. I will be in Dubai this weekend for a sort of mixed work and down time trip. I´m looking forward to seeing the sun & the gym but also to having some time to reply to your comments on the blog and to write a few new posts for you and to go through the photos of the birthday party. Maybe I´ll squeeze in a trip to a mall too. "Just" to get some Halloween candy for Monday night ( wink wink).