I did not mean to go missing for a whole week but then as they say, life happened. There was work ( a trip to Chicago that I loved) and then there was just the important things like holding a few months old baby ( no, not mine) and holding some bigger babies ( yes mine). Then suddenly it was time to head out to the island and I ended up lying around in the sun being very busy trying to not lift a finger. And there I was lying still, very still like the sea that looked like a mirror of beautiful soft blues of the sky and some cotton candy clouds scattered here and there but just barely. And I thought that that is exactly what my life was supposed to be about right then. Just now. 
I have this nagging feeling all the time that the summer is ending and the school year and the hobbies start. Usually I´m very eager to head on to Fall, I love Fall. But this year there are just too many open ended questions about it that I feel at loss. I love planning ahead and knowing where I´m headed and when the element of that stability is missing it makes me feel very restless. I´m also learning that I am not very good at dealing with disappointment when things don´t go as I had hoped or planned and it makes me feel anxious. Both the fact and the issue. So lying very still staring at the sea just feels like a very good place to be right now. I don´t know about you, but sometimes I feel very grown up and in charge and sometimes like everything in my life just happened but I´m still a child or at least a very young adult and not thinking about things makes them go away. Even throwing tantrums ( small scale and mostly just in my head) feels like a good way to handle things sometimes.
But instead I try to breath in and breath out. Looking at the birds gliding past, laughing as they go I wonder if they feel happy and free. Or perhaps they too are yearning for more. More time, more warmth, more moments that stand still. And I wonder how when nothing is wrong and your life is filled with love on top of love and you have made it your life´s purpose to hold on to the people you love and to cherish them then something so trivial can throw you in for a spin.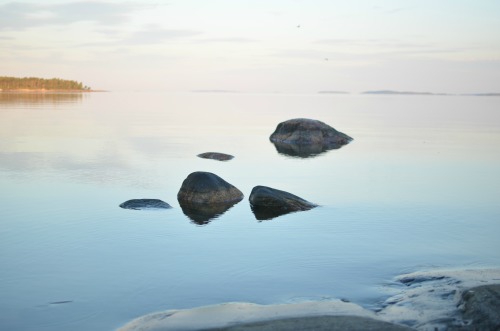 In spite of all of the disappointment of barely reaching my dreams and then seeing them glide away when my fingertips were already touching them I have had a wonderful time this past week. In spite of myself disliking myself for feeling so naive and childish I still have felt like a great parent this week. And the weekend was amazing. The hottest Finnish summer weather one can hope for, the prettiest sunsets and lounging around on the island listening to the cousins giggle their hearts out, eating ice-cream on a dock by the shop boat. Oh and mornings without an alarm clock.
Now more of the stillness so I can hear myself think " It was not meant to be. Just let it go."
Lattemamma