I hear the birds chirping in the trees and they make me so happy. School year is closing in on it´s end and the summer is waiting for us. I just love this time of the year. The long summer ahead. For the kids the freedom of being able to do nothing obligatory. For us parents it is also a great time as there will be no hobbies to take them to or school work to think of. It is just fantastic. Not that I´m not a fan of either it´s just that sometimes it feels like all we do is make plans around piano lessons or recitals, dance carpools or competitions and art school drop offs or tennis lessons. We obviously have to work partly during the summer holiday but it is a lot less to think about.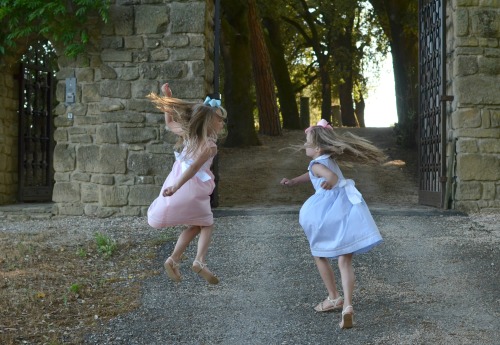 I have given this thing a lot of thought. I have very strong childhood memories related to different times of year. And they are all good memories that make me feel cozy and make all seasons very dear to me. So it made me wonder how people who have sad or bad memories from their childhood react to these season changes. It makes me sad to think the end of school year is a time of worry for a child. As it is a fact that some children do not get a warm meal over the holidays, there are no camps for them their parent would or could enrol them to, no one to care for them and nothing to do. Perhaps a drunken parent. It makes me feel so utterly sad. And so extremely grateful to have had the childhood I had growing up. I actually did not go to camps when I was younger ( later on I did dance camps which I loved). My both parents worked part of the summer. But not once did I feel alone or left without care. I had food and company. We had lot´s of friends to play with in our neighbourhood. We had vacations as a family too, in the archipelago and also every summer we did a holiday trip somewhere. Italy, Greece, England, France etc. We visited my grandmother for a week or two and as we ( my brother and I) loved her dearly it was always the best times. We had our own bikes at her place so we drove around in them and she always spoiled us rotten. I still miss her so much it makes me cry to think of her even though she passed away 13 years ago this May. And I am so glad my girls have grandmothers like her that dote on them and take care of them and are close to them. It is a blessing I am constantly grateful for as I know how precious it is from my own experience. 
This year obviously the birds chirping also chime in on the happiness of the new home and the recuperating shoulder that has made a great (yet not full) recovery from the surgery. Perhaps I can return to work soon! So this is the beginning of a brand new start! Not just any old summer but what feels like a new beginning after a winter hiatus of sorts. 
I hope your kids are well and excited for the holidays! Mine are looking forward to camps and time spent with their grandparents, on the island and also setting up their new rooms and finally finding their good friends in their neighbourhood! For the first time ever they will have a few days where they get to spend their days with just their friends doing nothing! How cool! Remember when you were just swinging in the playground and buying ice-cream with pocket money and then going home all sandy toed and happy to have had that first moment of freedom. To be a kid again for one day! Listening to the birds I will close my eyes and let the good feeling of memories fill my soul with pure happiness. 
Lattemamma