The other night
by Sofia - in Random
I saw him there. Just standing alone against the darkening night sky. An outline against the white walls of that big church of ours. It was otherworldly to hear the first notes resonate through the Senate square. A lone trumpet crying in to the night. It´s sad notes filling the empty streets. No one to listen but me and my daughter. But we heard him. And it touched me somewhere deep inside where I was already feeling raw and sad and unnecessary. Those were the notes of someone needing to let it all out. The sound of a cry or of relief. Of getting rid of the pressing ache in him. Maybe they were notes to a loved one passing or notes to reassure anyone of anything. Maybe it was just his need to be heard. Maybe they were the cords of love and happiness that I interpreted through a filter I was feeling. A filter of letting go.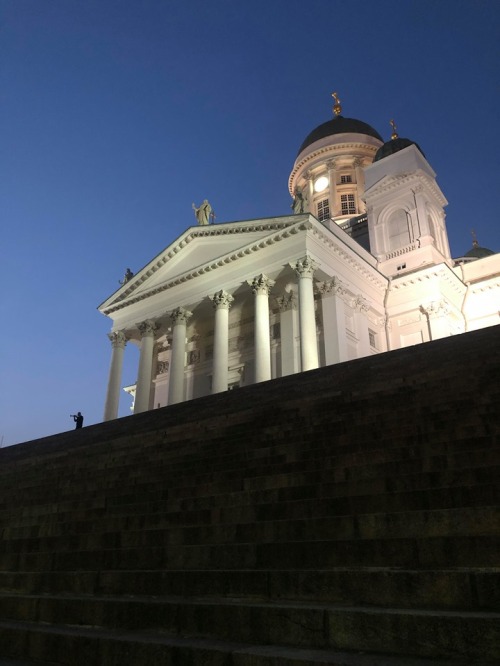 And then I told my daughter we could walk slowly and he could play us home as far as we could hear him. Home was warm and light and filled with my loves, my husband and my girls, my family. At times like these when we sometimes have to let go of things not meant for us anymore. When we have to let our dreams just slip through our fingers even if we try to hold on tight. At times like these it´s such a comfort to have love and to have people who help us interpret our feelings through music, through art, through movies and dance.
I needed to walk by as a lone man stood on the stairs playing a trumpet in to the night.
Lattemamma
The dark part of the picture is actually the church stairs.