Jeans and a white shirt
by Sofia - in Random
If you think of a very favourite looks for everyday what comes to mind? Not even for yourself but on anyone. I love a classic blue jean and a white shirt with loafers or the jeans with a white t-shirt and a pair of white Superga or Converse. The thing is I find it really hard to find lovely jeans that fit me and look great. And after speaking to many of my friends who have very different shapes and sizes to me all have the same problem. Shopping for jeans is hard. But why so? As even friends who have, in my opinion perfect bodies, say they struggle to find the right fit. I know I look better in skirts, dresses or slacks. But every now and then I think jeans just are the way to go. A great pair of lovely blue jeans are on my classics list with Breton stripe shirts, pearls and cashmere knits. They are there with all the other classics for a reason. They make an outfit any other piece of clothing can´t. I ordered these and am looking forward to trying if I got the size right and if they fit. You will know your body best, but I have learned over the years that for me a jean has to have a fairly high waist or it just travels down my hips and I find myself pulling them up all the time. I hate clothes that don't fit or feel comfortable. I will report back to you once they arrive but I can tell you I have not had a pair of Levi's 501´s since 1992. I have gone up so many inches it's not funny but then again in 1992 I was a twelve year old who was 172 cm tall but weighed 42 kg so I think it's best not to compare to a pre puberty child in a constant growth spurt. This is a different model though as it's a cropped version. I thought it might look lovely for Spring with above mentioned shoe options or the Chanel sling backs.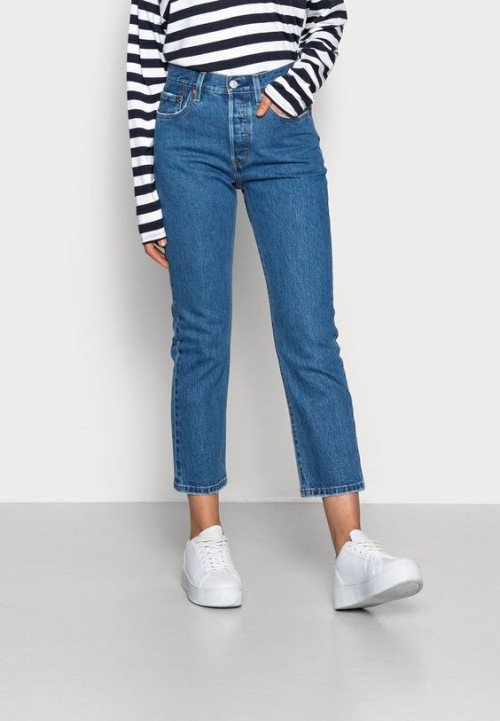 These are the jeans I linked and ordered. Let's see how the fit and size looks on me. I got mine two inches longer than the 176 cm model who is a few cm shorter than me in hopes they would hit a little closer to the ankle. One inch is about 2,5 cm so I think it might work.
Here are some jeans and shirts looks from Pinterest…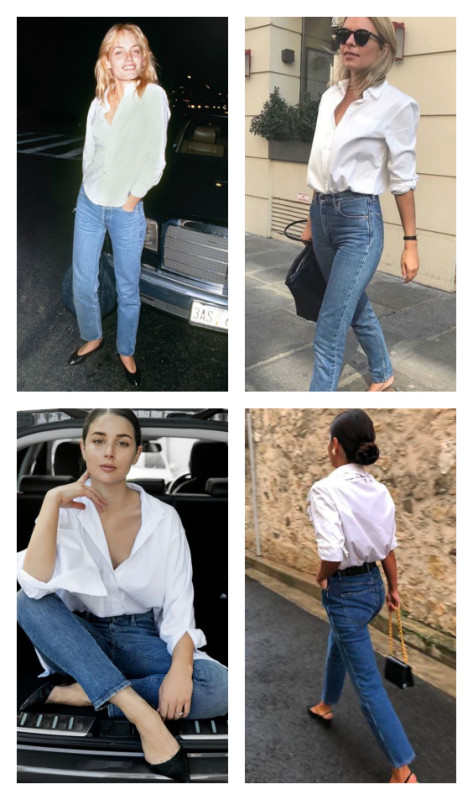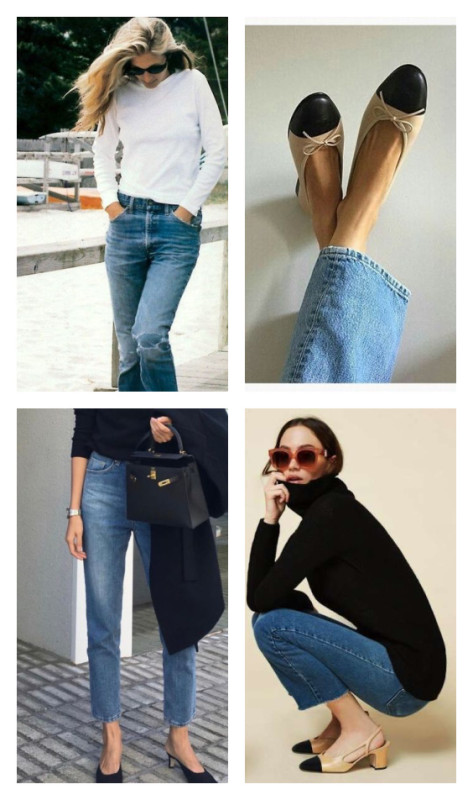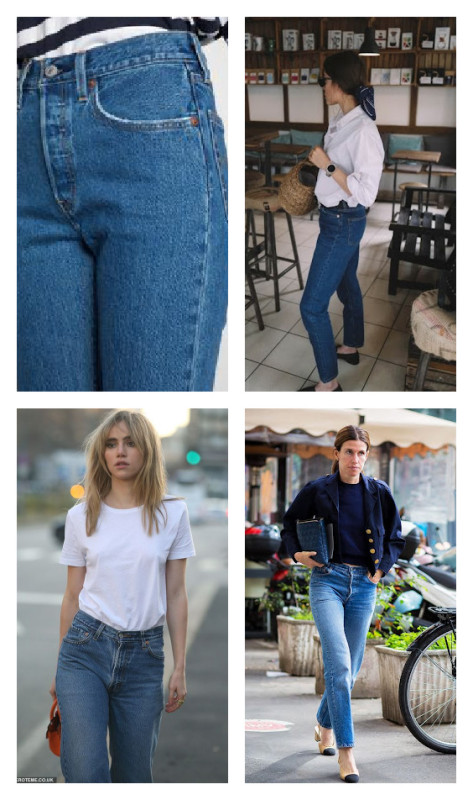 Who makes your favourite jeans? And how about the best white t-shirt or button down?
Happy Women´s Day!
Lattemamma
p.s. When the world is upside down and my heart is heavy I seem to find comfort in the never changing good. A comforting bowl of oatmeal porridge or a good white long sleeved t- shirt and blue jeans on me. I have never really understood the idea that if there is a crisis going on people stop washing their hair saying " What's the point". For me it's the little things that help. A clean hair, a white shirt or a cozy but nice pair of comfortable clothes. I don't want to feel like I have given up and I will not give the satisfaction to anyone. And yes I am aware that no matter how many wars are going on in the world no one really cares what I'm wearing but it's a mental state of mind. It's my way of coping. Standing tall in my kind of uniform, white shirt, red lips and a ponytail.