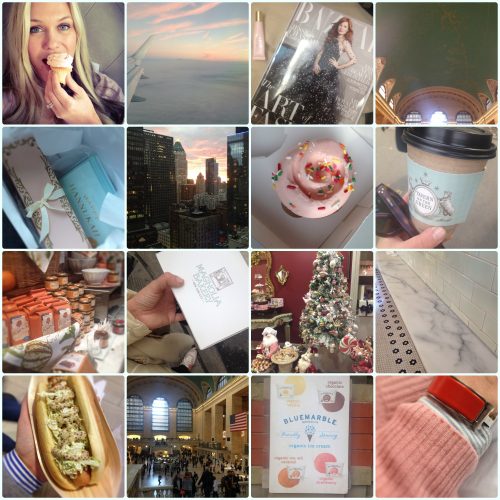 I promised a little something from New York. This time I did not bring my camera with me for two reasons. One of them being it´s quite heavy and hauling it around all day it seems to get heavier all the time. Two is that I wanted to concentrate on being right there and not shooting away at every corner. But I did take a few snaps with my phone. Some of them are above. The trip was absolutely perfect except for the fact that my luggage only arrived the day before we left home. It was obviously very annoying and a little stressful at first too as the tags had ripped off the bag and it seemed to have disappeared completely. As we all know a girl usually packs some of her favourite things for a 5 day trip to a big city so I mourned after them a little thinking I would never see them again. Luckily they had found my luggage in Frankfurt after the second day so I could relax a little. Unfortunately it took quite a while to reach me. The only good part about loosing ones things is that one actually needs to go shopping for new ones. And even though I only bought the very essentials I did happen to find a perfect little black dress for myself. 
We had reserved a few dinners before hand. The other one was with old friends. My friend lives in New York and is a foodie ( she just wrote this cookbook that I love) so she took care of the reservation. We tried Hakkasan which apparently is all the hype there at the moment. It´s an upscale Cantonese restaurant and the food was really really good. As were the cocktails ( we were not thrilled about the interior of the place and the location is quite touristy). We had so much fun and so much to talk about we stayed up until dawn. One of those nights you remember for a long long time. The other restaurant we had booked before hand was an old classic steak house called Keens that I can definitely recommend too. Well if you are in to meat that is.  I rarely order a steak when I´m eating out but in a place like this it´s obviously a must and it really was very good. Other than these two dinners we went where our feet ( and appetite) took us and had some really good food as you easily do when in New York.
One night we went to the Madison Square Gardens for an NHL hockey game. We had great seats and it was an exciting experience. New York Rangers played against Minnesota Wilds. I ate a chicken hot dog that was actually delicious ( you can see it in one of the photos). I think in Finland the food is not usually that good in these kinds of places so I was very surprised that at MSG there was plenty to choose from. I don´t drink beer that often but thought it would kind of go with the whole experience but they refused to sell it to me. I would love to think it´s because I don´t look a day older than 21 but in reality they are not allowed to sell to people who look under 40 and don´t have an id ( a European drivers license does not count as valid one just so you know). But I´m sticking to my story that I really just looked too young for beer! It kind of makes a girl feel… well like a girl really.
The rest of the time we just went with the flow. We walked around the city and enjoyed the sunny weather. I got my hair done in Dry bar as I did last time.  Obviously we spent a bit more time shopping as I had to re-buy clothes and make-up. But other than those necessities ( that obviously add up even though I shopped more J.Crew than haute couture) I did not buy so many things really. We did visit some favourites like Pottery Barn Kids and Williams & Sonoma and obviously browsed through landmark places like Tiffany´s and so. I found the loveliest Christmas ornaments at Saks and some cute cards for a few friends ( seen in one of the photos). I will take a closer picture of those ornaments at some point as I´m actually getting in to the mood for Christmas "slowly" and got very inspired this year from the Saks little Christmas trees ( also in one of the photos). Oh and I did drag mr. Espresso to Party City one morning and we bought plenty of things for the upcoming birthday party. Those you will see soon enough as the girl´s birthday party is this Sunday. 
Last time we were in New York we stayed at the Soho Grand ( as I love Soho) but this time we wanted to be more mid town and closer to the Central Park for a change. We stayed at a fairly new boutique hotel The West House Hotel and I highly recommend it. Our room was nice and surprisingly spacious ( we had the Times Square view king on the 25th floor) and the service was very friendly. There was a lovely breakfast ( great coffee, little bagels with lox, mini croissants and pain au chocolate, granola and fruit… you name it) but there was also a set up for tea time with little cookies etc. and in the evenings an open bar with sparkling wine, wine, cocktails, beer and some Italian style finger food. They had a terrace there where you could enjoy the views of New York. A very positive experience all in all.
So our little trip was a huge success and very relaxing. I find it´s very important to sometimes take the time to be just with your spouse for a while. It does not have to be a trip abroad, even just a date night or popping in to the movies does the trick. Just to take some time to be just the two of you. Our kids stayed with their grandparents. First a few days with the others and then a few with the others and had had a great time. I think it´s lovely our children are so close to their grandparents and to our siblings and it´s so nice we have the chance to get away or sneak in a dinner as they all live close buy. But please don´t think we do not love our children or that we need lots of time to be apart from them. But I do find it´s great for the relationship to be able to give your other half full attention once in a while and obviously to receive that attention too. On our next trip the girls are coming with us though as I think it´s nice for them to get to travel too.
Lattemamma
Tänään teksti vain englanniksi, toivottavasti ei haittaa!