Heippa Ihanat! Pieni blogiloma takana ja palaan tällä viikolla vielä lomakuulumisten ja yhden ihanan resptinkin kanssa, mutta ensin vastasin Hungry in Helsinki blogin minulle jättämään haasteeseen. Alla siis viisi asiaa joita käytän keittiössäni paljon ja sitten vielä viisi keittiöön liittyvää haavettani…
Galith from the delicious Hungry in Helsinki blog asked me to share what are my five things in the kitchen I can´t live without and what are the five things I dream about having in there. Five Galith, really?! Both of my lists could go on for a week!
I´m very much blessed in the way that I have my dream kitchen. Well obviously when you have something, you always want more, so I have my next dream kitchen already planned out in my head but I think I need to win the lottery before that. But my kitchen now is spacious, it has a great cooking range with gas & electric and a lot of countertop space, electric plugs in places I wanted them at & room for many appliances and more ( I have a pasta maker, a spiralizer, a Soda Stream, Le Creuset pots and fancy pans etc. and all of it is neatly hidden in big drawers) . And it´s pretty too! ( Here is my kitchen and here are some details I had planned there to make it work for my needs.)
When it comes to kitchen needs mine are not that "big". I can live with a few things really but there are a few things I use all the time…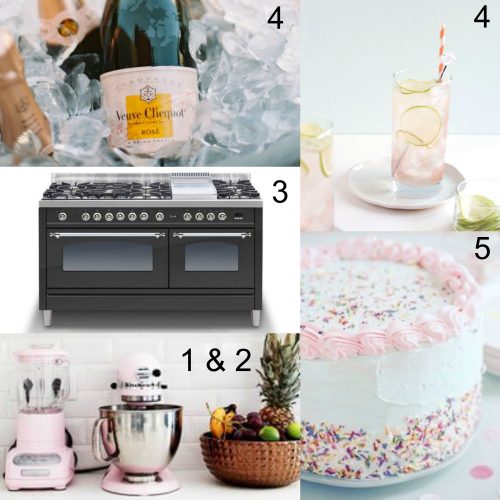 1. My Kitchen Aid stand mixer ( it´s a bakers dream and I use it every week).
2. My blender also from Kitchen aid ( for smoothies we make almost daily & things like pesto).
3. Gas ( now that I have gotten used to cooking with gas in the last 5 years I would feel weird to go back to regular stoves, even induction).
4. An ice maker ( we have a fridge/freezer that has an ice maker that gives you either crushed or whole ice-cubes & cold water. The kids use it for their water all the time so it frees my hands from turning the tap for them, as ours is quite high. And it´s such a help when having guests or making cold drinks. Think never having to pop ice-cubes out of those plastic containers one by one!).
5. Good quality baking tools ( from cake pans & pie forms to piping bags & spatulas etc. they make my baking so much more enjoyable. You can bake great stuff with just a hand whisk and a cake form. I know, I do that on the island. But these make my baking so much easier and more fun). I´ve acquired mine over the years, not in one sitting.
My kitchen wants list could be as long as Friday seems to be from a horrible Monday but here are a few on my list…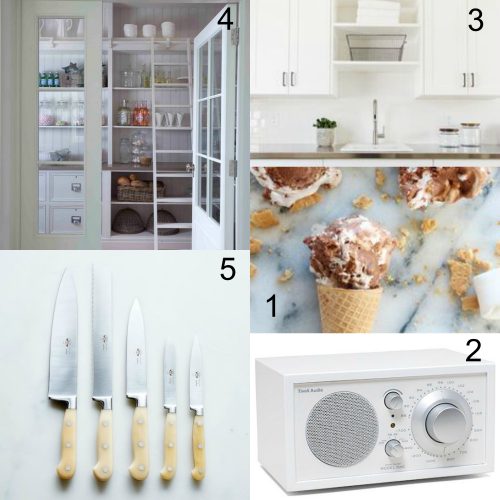 1. An ice-cream maker attachment for my Kitchen Aid ( I had an ice-cream maker on lend from my brother when he lived in Hong Kong for a few years but it takes up quite a lot of space). This would be great and less space consuming! Think ice-cream like lavender-honey or cardamon-rose… ( Also this pretty ceramic bowl for the Kitchen Aid!)
2. A great sound system. Or even just a little Tivoli radio. Seriously I can not get myself to buy one even though they are not that expensive and I´ve been wanting one for years. What is wrong with me? Even more so… what is wrong with my husband as it´s been on my list of "please buy me this gift" for so long ( is he not a mind reader after all?!?). I love to listen to music when cooking and I also do my laundry in the kitchen ( we have a teeny laundry "closet" attached to ours).
3. A proper laundry room! Ha ha, my kitchen needs an actual laundry room attachment to make room for more cookbooks where the washer & dryer, ironing board etc. are now. Besides if anyone "deserves" a laundry room it´s me. I would use it with gusto and keep everything so nice & pretty, all my Laundress products in neat order and my kitchen towels, sheets & fluffy white bath towels in the cupboards.
4. A pantry. I know these answers are not quite what Galith had in mind but if ever I could expand my kitchen then I would love a pantry and it would make my life so much better. I could have all my pretty jars & bottles there and not hiding in the cupboards. You know I have a thing for pretty packaging. So it´s a big kitchen want!
5. Good sharp knives. Most of mine quite frankly are not up to par. And fancy cutting boards. And good pots and pans while we are at it. I actually have started to upgrade those pots slowly so that one is on it´s way…
So now I´m curious! What are your can´t live without kitchen products and what are on your wish list?
Ihanaa päivää ja alkavaa viikkoa!
Lattemamma
p.s. Stay tuned on Hungry on Helsinki as I too have cooked up something for them a while back in my kitchen and you can read my food story & journey quite soon hopefully!