Vintage Selection
by Sofia - in Random
We are on my favourite subject again. Coffee! One of the good perks of blogging is my collaboration with Nespresso and especially the days when their so called love box arrives at my door by a courier feels very indulgent in just all the right ways. But if anything can make a coffee lover even happier it is when someone seems to have designed a coffee with you in mind. From taste to the look of the capsule. When my husband does our monthly coffee order online ( yes, the love box is just for sampling not for heavy users like me) he always asks for my opinion on tastes and then looks at me firmly ( but with a smirk) and says " and do NOT just choose the ones with your favourite colours on them". So with this limited edition selection vintage I can do just both. The capsules are a pretty pink with a sort of a vintage champagne cork feel to the design. They were aged for 3 years in optimum circumstances like the right lighting & humidity. The intensity level is 7 ( of 12) which I like even for my frothed milk laced drinks. It has a smooth & elegant velvety texture ( as described on the box too). I told you, designed for me. Try and see for yourself.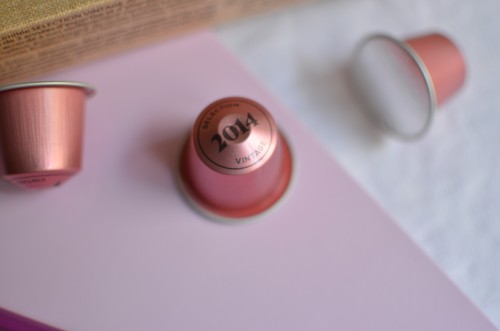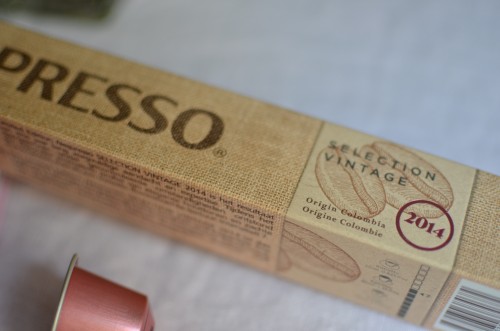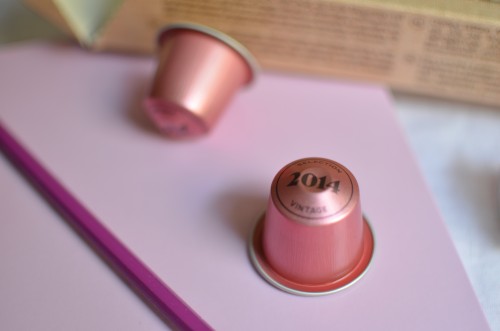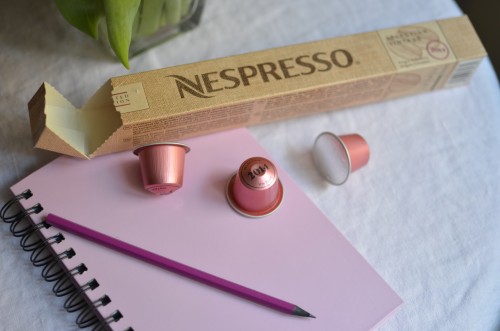 Lue lisää tästä kahvista suomeksi ja katso video sen matkasta Nespresso Finlandin sivuilla. Eikö olekin aika kaunis patruuna?! Sain myös lähetyksen mukana kauniin muistikirjan ja kynän. Arvatkaa vaan omivatko tytöt nämä heti. Miten viikkosi on muuten lähtenyt käyntiin? Meillä ensimmäiset päivät ovat menneen rytmisen kilpavoimistelun treeneissä, balettitunneilla, inkivääri-bataattikeittoa syöden ja viisvuotis neuvolassakin käyden. Eli todella arkisesti siis. Mutta mikäs se on arkea pyörittäessä kun saa ammulla keitellä itselleen pinkistä patruunasta kahvit!
Lattemamma
p.s. Muista kierrättää Nespresso kapselit metallinkierrätykseen.